CJP welding is often performed in numerous passes, each forming a weld metal layer. The number of passes needed is defined by the thickness of the materials to be connected. Thinner materials may need just one or two passes, but thicker materials may necessitate three or more passes. CJP welds are generally created using a welding technique known as gas tungsten arc welding (GTAW). An electrode that is electrically charged with tungsten is used in this method to create an arc between the electrode and the workpiece. The arc's heat melts the base metals, allowing the filler material to pass through the junction.
What is Complete Joint Penetration?
CJP is an abbreviation for Complete Joint Penetration. As a result, CJP refers to welding joints formed in groove joints or T-joints in which weld metal is placed from root to base material face and continues all through the base material thickness.
Complete penetration is an uncommon word for a CJP weld. A basic description of CJP is provided in the image below for CJP welding in a groove junction. The depth of the groove, including the bevel face, is used to dimension the complete joint penetration (CJP) welding and is referred to as weld throat size.
Types of CJP Welding
CJP welds are divided into two categories according to AWS D1.1 and CSA 59:
Type 1: Welding groove CJP (Used for statically & cyclically loaded parts).

Type 2: Welding groove CJP (Used for tubular parts).
CJP Welding Type 1
Complete Joint Penetration Type 1 (CJP) Welding is accomplished by welding on both sides. To produce a complete penetration weld, a single V-groove is welded from one side and then back-gouged and welded from the root side.
A Type 1 CJP weld is one that uses a backing strip or backing plate to guarantee complete fusion between both plates with the root backing.
CJP Welding Type 2
This type of weld is used for tubular connections. The weld may be produced from both sides or from a single side (employed for tubular sections having a small diameter where root-side access is inaccessible).
Difference between CJP and PJP
Weld metal extends through the whole thickness of the joint in Complete Joint Penetration (CJP) welds. Weld metal that does not reach all the way through the thickness of the joint is used to create partial joint penetration (PJP) welds.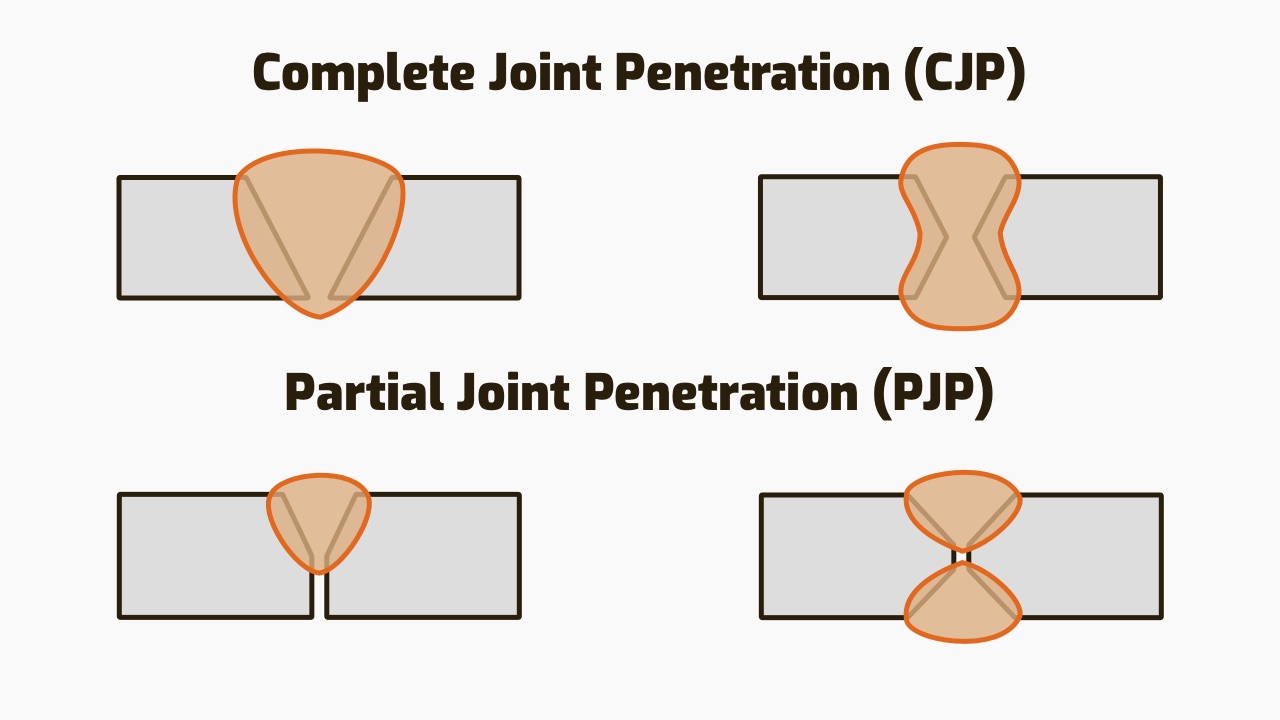 For instance, a 2-inch plate junction has a 1-inch penetration. As a result, a 'PJP weld' has a 1-inch dimension, but a 'CJP weld' has a 2-inch dimension, which is equivalent to the base material thickness.
CJP welds are often stronger and more dependable than PJP welds, although they might be more challenging to complete in small places or on complicated forms. PJP welds are less difficult to manufacture than CJP welds, however, they are not as robust or trustworthy.
CJP Welding: A case study
For many years, a fabricator has been producing CJP groove welding in T-joints for remote applications, employing double-sided joints using back gouging and according to the prequalified AWS D1.1 joint specification TC-U5-GF. Rather than thinking wrongly that back gouging of two-sided CJP groove welding was a "requirement," this fabricator used the D1.1 Code alternative, which allowed WPS qualifying without the need for back gouging.
The alternate method eliminated the rear gouging operation in favor of a one-of-a-kind root pass process that assured a CJP groove weld. The overall junction was a tee made up of two 3 in (75 mm) steel members that were formed using a double bevel groove preparation, a 50-degree included angle, no root aperture, and no root face. The root passes were completed concurrently by two pulsed GMAW arcs operating from opposing sides of the web. The longitudinal gap between the opposite arcs was about 1/2 in (12 mm). Figure A depicts the entire penetration of the root passes. Figure B shows the finished joint, which was also filled with pulsed GMAW.
WPS certification testing was required for such procedures, however, the potential cost reductions much surpassed the expenditure of the WPS testing procedures.
Why Is Complete Penetration Important in Welding?
Full penetration welds feature a variety of advantageous qualities. These may help to enhance the overall quality of the joint. As a result, they are typically employed for high-performance components.
High Strength – What Is the Strength of a Complete Penetration Weld?
Full penetration welds provide higher strength than other types of welds. "Fusion" is the keyword. The base metal pieces and filler heat and form a single, fused weldment during the weld. The more the fusion (or mixing), the greater the joint strength. Deep penetration in CJP provides for enhanced fusion and hence greater strength. To withstand huge loads, load-bearing systems, for example, often utilize full penetration welds.
Resistance to Corrosion
CJP welds are also more highly resistant to corrosion than PJP welds. Corrosion usually begins in air pockets, cracks, and gaps within the weld. These spaces may collect moisture and debris, both of which are required for corrosion. A complete penetration weld uses more filler material and eliminates gaps between the linked components. This improves the resistance to corrosion of the joint.
Disadvantages
So far, we've focused on the benefits of full penetration weld. It may seem silly not to have CJP, but there are situations when the disadvantages exceed the benefits. Excessive mixing is a major drawback of full penetration welding. To put it simply, the required high energy creates considerable metal to melt further into the weld pool.
This intense temperature also causes the mechanical characteristics of the base material at the weld contact to be disrupted. The resulting high-temperature material is weaker, distorted, and prone to cracking. A more precise term for it is that the heat-affected zone ("HAZ") is larger. This mixing issue might also result in a dilute admixture. This signifies that the filler-to-base metal ratio in the junction is not optimal. This leads to performance concerns in the long run.
When welding thinner portions, the tremendous energy might cause a crack in the base metal in extreme circumstances. Welders refer to this as burn-through, and it is evident that this is not something you would like to happen to a workpiece.
When choosing a full penetration weld, keep these disadvantages in mind. In certain cases, sacrificing a little amount of penetration for increased mechanical integrity may be a good decision. Read out our article on burn-through welding.
Conclusion
Rethinking "requirements" like backing or back gouging for AWS D1.1 CJP groove welds can allow for the adoption of more cost-effective alternatives. In other cases, when authorized by the Engineer, Code restrictions might be disregarded and alternatives allowed. AWS D1.1, Section 6.8, for example, allows the Engineer to utilize alternate criteria for certain applications. The Engineer is urged to rely on past experienced engineering judgment, furthermore to analysis or experimental evidence, when approving alternatives. Alternatives, on the other hand, may be accepted in this way, allowing legitimate alternatives.
The cost reductions gained in the prior case study were considerable. Equally significant, the overall quality is predicted to improve since the system relies on precise control of the welding techniques for the root pass rather than back gouging operations, which are intrinsically prone to differences in operator competence. This cost-cutting endeavor, as is often the case, enhanced quality.