For many individuals, welding may have a particular attraction. Prepare the metals, take off the visor, draw an arc, and start working. A practical and usable object would develop from the scorching white flame that may have been merely a jumble of metal bits before. But in order to do this, it is crucial to comprehend butt welds. What is a butt weld then? The most typical junction utilized in the construction of buildings and pipe systems is a butt weld. The molten metal is applied all the way around the joint in a circumferential weld joint.
What is a butt weld?
One of the most basic and adaptable forms of weld joint patterns is a butt weld. Two metal pieces are simply placed side to side, and the junction is created by welding all along the join. The areas of the workpieces being connected must be on the same plane in a butt joint, and the weld metal must stay within the planes of the surfaces. Workpieces are thus almost parallel but do not overlap, unlike, for instance, lap joints.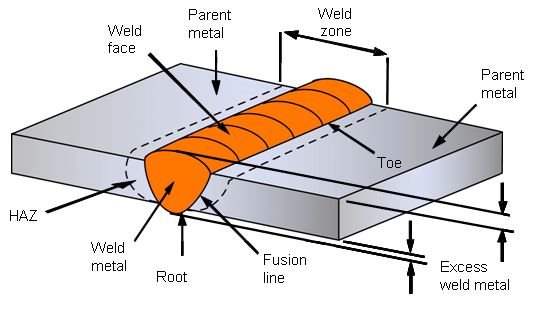 Different sorts of grooves may be made due to the metal thickness of components. For thicker metals, groove preparation—also known as weld edge preparation—is required. According to their form, several kinds of grooves include V, J, and U grooves. Depending on whether a weld must have complete or partial penetration, the groove pattern varies. Different welding procedures may be used for groove welding, including manual, automatic, and mechanized ones. Ordinarily, thin sheets are welded without any weld workpieces; these junctions are known as squared butt joints.
Arc welding, resistance welding, high-intensity beam welding, and even brazing may be used to put the butts together. To hold weld pieces together initially, a tack weld may be used. This temporary union guarantees that parts remain in the right orientation although the butt welding is being done. When attaching components just at the butt joint location, pre-heating may be necessary. Butt welding is often used in a variety of industrial industries, including plumbing systems, automotive, energy, and electricity.
Types of Butt Welds
There are numerous ways to create butt welds, and each one has a distinct function. The width of the gap, layering, and groove's shape are a few examples of the various factors. Here are a few typical butt weld joint examples.
Square Butt Weld
Single Bevel Butt Weld
V Groove Butt Weld
U Groove Butt Weld
J Groove Butt Weld
You can select the butt type based on the specifications provided below.
Square Butt Weld
The easiest joint design is a square groove butt weld. When the weld joint cannot withstand a constant load and the metal is up to 3/16 in. thick, it is used. A root opening or a close fit between the workpieces can characterize the joint. The root opening, however, might be required depending on the metal and filler material.
Single Bevel Butt Weld
For single bevel joint welds, one of the base metal plates must be beveled to a predetermined angle or one of your choosing. The other metal piece's edge is still square. The thickness of the metal and the preferred bead width determine the angle of the bevel. To increase the squared metal piece's penetration, a root hole may be employed.
V Groove Butt Weld
V-groove butt welds resemble double bevel joint architecture. To create a V-shaped space between the two workpieces, beveling is necessary. The most typical joint pattern for butt welds is one that allows for the most penetration. This butt weld joint ought to be your go-to option whenever welding something thicker than 3/16 in.
The bevels are comparatively simple to create. You can smooth out the metal's edges using specialized equipment like a mechanical leveler or just an angle grinder. However, it is quicker to use a plasma torch or an oxy-acetylene setup to bevel the edges when working with thickness greater than 3/8 in.
U Groove Butt Weld
The hole between the pieces of the U groove is shaped like a U, unlike the V groove design. The edges need to be concaved, which is challenging to do without the right tools. Because it has lower costs than the V groove, it is used in specialized settings.
The U groove could encounter less residual tension as a result of the less filler metal being deposited. Additionally, the joint will be more durable and less likely to bend or break. Any necessary heat therapy for stress alleviation will also be more affordable.
J Groove Butt Weld
The J groove is "half" of a U groove, much as a single bevel's joint pattern is "half" of the V groove. Although it is much more difficult to construct and weld, it is employed in environments where the U groove butt weld is used. It takes a great deal of expertise, and it is only cost-effective if the filler metal savings outweigh the increased machining and operator expenses.
It is simplest to horizontally weld the J groove butt weld with the vertical edge on the bottom side. Even so, a skilled welder is still needed to slant the electrode diagonally into the groove towards the vertical face. You may learn more about this in our separate post on horizontal as well as other welding positions.
Benefits of butt welding
Because the butt weld is simple to perform and produces a moderately strong weld, many welders like to utilize it on their projects. It offers users the following benefits.
Over the whole joint region, many butt welds in various section sizes and shapes may be made. For instance, butt welds are utilized on anything from railroad rails to bicycle wheel rims. You must make sure that the linked pieces closely match each other. Butt welding can also make miter joints, like the kinds you might have seen in welded metal window panes.
A wide range of materials, including steel, aluminum, stainless steel, nickel alloys, titanium, etc., may be welded.
The junction is solidly phased thanks to the weld. During the heating process, any molten metal and impurities created at the site of collision are forced out into the upset. This makes sure that cracking, porosity, and solidification are not problems.
Without striking the arc at a variable angle, the welding procedure may be carried out automatically or partially automatically. After each impact, check the junction to assess the weld's quality.
The connection that was butt welded is robust and totally sealed.
As the connections between the connections and tubes in the piping system are of excellent strength, it is appropriate for continuous steel structures in pipes.
Because the filler is deposited into the groove, butt welds often have a smooth surface.
The price of butt-welded pipe fittings is inexpensive.
Joints that are butt welded take up less room in construction.
To find out how you can butt weld joints, go watch this video:
Conclusion
Due to its simplicity, butt welding is the joint type that is often utilized for a number of applications in many industrial sectors. For variable weld thicknesses, this fundamental process provides a variety of weld forms. A butt junction must be welded correctly by every welder. Fortunately, it is the simplest weld joint type to learn, and apart from in a professional setting, it seldom needs extra care. If you are a newbie, particularly if you are welding sheet metal, don't be disappointed if your butt joints fail or workpieces get warped. Keep practicing and you will get the knack of it since this is a rather simple joint to learn.
You can also read our article: Types of Welding Joints