Brazing is traditionally used to join metals (but also ceramics) and involves allowing liquid filler metal (the braze alloy) to flow into the joint. By using a higher thermal conductivity and much more tightly fitting pieces than during soldering, brazing varies from soldering. While welding only uses the two "parent metals," brazing also uses a third component called the joining metal. This article defines what is brazing, the methods of brazing, and various advantages and disadvantages.
What is Brazing?
Using a molten filler metal, it is the technique of connecting two metals together with the help of molten filler metal. The filler metal's melting point will be lower than that of the two different metals being connected. The filling and parent metals must be metallurgically suitable in order to produce a strong brazed junction, and the joint design must include a space into which the liquid braze filler may be sucked or spread by capillary action. The brazing environment, base material, and braze alloy composition, among other things, all affect the necessary joint gap.
There are several different methods for it. The two basic types of heating are diffuse heating and localized heating, in which just the joint region is heated. By using capillary action, which is the capacity of liquids to flow through small gaps without the aid of gravity, the joining metal is heated and inserted into the junction of two different parent metals during this process. A flux shields the liquid metal from oxidation while it is still in the liquid state. The components are then joined together by cooling the liquid metal.
What is flux?
The braze alloy has to be shielded by a flux unless this procedure is being carried out in a controlled setting, like a kiln. Flux is a substance that prevents the metal from oxidation while it is still in the liquid state. During the joining process, the flux goes into the junction and is often composed of a substance like borax that hinders the formation of oxides.
Qualities of a good flux
It should safeguard the brazing junction until the metal solidifies.
It is low viscosity makes wetting easier.
It has a low melting point.
Brazing Vs Soldering
For brazing, filler material's boiling point must be over 450°C; for soldering, it must be below 450°C.
Filler materials for brazing may be made of nickel, aluminum, silver, or copper. Tin and lead, however, are the metals used in soldering.
While rosin, zinc chloride, and aluminum chloride are often used in welding, borax or boric acid may be utilized as the flux in brazing.
Compared to soldering, brazing creates stronger connections.
Soldering does not provide precision in the workpiece; brazing does, and joins may have a pleasing aesthetic look.
Heat exchangers, tanks, pipe fittings, and radiators all employ brazing, whereas soldering is used for connections on electronic circuit boards.
Brazing Vs Welding
It does not melt base metal as welding.
While welding demands a higher temperature, brazing doesn't demand a higher temperature than welding.
It does not fuse the base metal as compared to welding.
Welding filler metal has a higher melting point than joining metal however brazing filler metal has a lower melting temperature.
While welding makes use of fusion, it employs capillary action.
Active Metal Brazing
Ceramics that cannot be joined with "traditional" brazes are often joined with active metal brazing. To encourage reactivity and wetting with a ceramic substrate, an additional metal (often titanium) is given to the braze alloy during active metal brazing. Numerous braze alloy compositions exhibit improved wetting behavior and higher reactivity when titanium is added. The development of an intermetallic interfacial side reaction wets the ceramic, allowing the braze alloy to join it.
The 72Ag-28Cu eutectic alloy, to which 1–5 wt. percent titanium is added to form sheets or cores and wires, is the basis for the most widely used active metal brazes. Sometimes indium is used to bring down the eutectic temperature. These serve as the foundation for a variety of commonly available brazes that wet ceramics like silicon carbide, silicon nitride, and diamond as well as alumina.
Due to the reactivity of such active metal brazes alloys, a vacuum or an inert gas environment must be used throughout the brazing process. The liquidus of the braze alloy is commonly reached at brazing temperatures of 50 to 100 °C.
How to do metal brazing?
A brazing torch, filler rod, flux, and gaseous fuels (oxygen & acetylene) to create a carburizing flame are necessary to complete the brazing process.
Below is a description of the its operation process.
The surfaces that will be joined must first be thoroughly cleaned and free of dirt, debris, oil, grease, oxide layers, and other foreign materials.
Apply the appropriate flux where it is to be done. This is done to prevent base metal oxidation and to facilitate the capillary action that makes the filler material flow easily.
The filler metal is then positioned at the location where it is to be done.
Increase the temperature just above the filler material's melting point using a carburizing flame.
Molten metal is created after the filler material's temperature is raised, and it then tends to flow into the gap via capillary action.
Permit the base metals and filler material to set.
Next, slowly cool the base materials to create a solid bond.
Because it is corrosive by nature, the remaining fluxes are washed right away.
For better understanding, go check out this video:
Different Brazing Methods
The heating technique frequently used to categorize brazing use a wide range of heat sources. Some techniques heat directly (just the joint area), while others heat the entire system in order to reach the brazing temperature (diffuse heating). Following are some of the most popular brazing methods:
Regional Heating Methods
Torch Brazing
In this technique, a fuel gas spark provides the heat needed to melt and move filler metal. A flame is created by combining a fuel gas, such as acetylene, hydrogen, or propane, with air or oxygen. This procedure is easily automated and costs little to start. A post-braze clean is frequently needed because torch brazing necessitates the use of a flux.
Brazing by induction
High-frequency induction burning for brazing is efficient and quick, allowing for precise control of heat source and temperature. Rapidly alternating current is introduced into the work material by an adjoining coil and produces heat.
Resistant Soldering
In this procedure, heat is produced by opposition to a passage of electric current in a circuit containing the workpieces (similar to induction brazing). The method is best suited for use on relatively simple joint surfaces in highly electrically conductive metals.
Heat-Diffuse Techniques
Brazing in a furnace
Two key benefits of furnace brazing are the capacity to precisely regulate each phase of the burning and cooling cycles and the protective atmosphere brazing, which eliminates the need for flux. Both elements and gas fires are used for heating.
Dipped brazing
This entails submerging the whole assembly in a hot solution of flux or braze alloy. In both situations, the solution temperature is higher than the filler metal's melting temperature but less than the parent material's point of solidification.
Precautions
When brazing, the following things should be considered.
Joints should be cleaned to remove any potentially harmful substances.
Keep the metal from overheating and keep the temperature consistent.
Use the best possible amount of flux and the appropriate filler metal.
The joint needs to be snug.
Create a suitable environment.
Pros of Brazing
The advantages of soldering over other metal joining methods like welding are numerous. These are what they are:
A variety of metals, including dissimilar metals and non-metals, are joined using this process (e.g., metalized ceramics)
More precisely maintained component tolerances than during welding. It enables significantly tighter control of tolerances since it does not burn the base metal.
They created a clean junction; little to no finishing is needed for the finished joint. Because it doesn't need a costly auxiliary operation, it is lucrative.
Using this technique, corrosion-resistant joints were produced.
Because it is done at low temperatures, the material's metallurgical properties are preserved.
No flame or fire can be seen. Thermal distortion is reduced during this process by the homogeneous melting of a welding component.
It may be used to connect thin layers and pipes that cannot be bonded by welding.
As compared to riveting, spot welding, and bolt fastening, they provide good sealing.
For mass manufacturing, brazing procedures may be easily automated.
Cons of Brazing
The drawbacks of welding include the following:
At extremely high temperatures, the joints lose their effectiveness. because filler material has a low melting point.
There is an aesthetic drawback since the color of the junction is sometimes different from the underlying metal.
weaker than a weld in terms of the joint.
To achieve the capillary action of melted filler metal, the metal must be joined extremely closely.
It requires a flux, and any leftover flux must be cleaned off.
Large metal plates cannot be brazed because of the job's restricted size.
How to braze successfully
Step 1: Check for proper clearances and good fit.
Molten filler metal is distributed between the base metal surfaces by capillary action during this phenomenon. Maintain space between the base materials when brazing in order for capillary action to function as efficiently as possible. This generally refers to a close clearance. The ideal joint gap or clearance for the majority of filler materials is 0.0015 inches, though typical clearances fall between 0.001 and 0.005 in.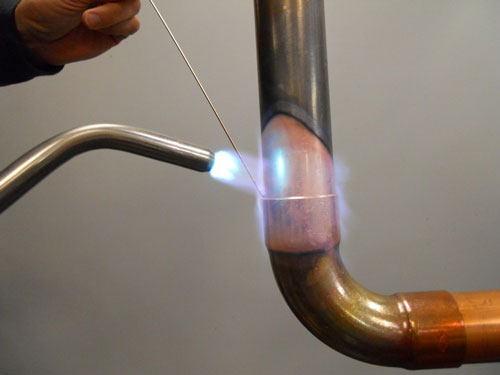 Step 2: Clean the metals
Only spotless metal surfaces can effectively use capillary action. You must remove any coatings of oil, grease, rust, scale, or dirt if they are present because otherwise, a barrier will form between both the base metal surfaces and the brazing materials. Metal part cleaning is rarely difficult, but you must follow the correct order.
Step 3: Flux the components
Prior to brazing, flux is a chemical compound applied to the joint surfaces. With a few exceptions, its application is crucial to the process of atmospheric brazing. This is due to the fact that heating a metal surface causes the chemical reaction between the hot metal and oxygen in the air to produce oxide more quickly. These oxides will stop the brazing filler metal from wetting the surfaces and bonding to them if you don't stop them from forming.
Step 4: Assemble for brazing
Hold the pieces in place for brazing after they have been cleaned and fluxed. For capillary action to function properly, make sure they maintain their proper alignment during the heating and cooling cycles. Gravity is the most straightforward method of holding components together if the form and weight of the elements allow it.
Step 5: Braze the assembly
Heating the assembly to brazing temperature and allowing the filler metal to flow through the junction is the actual brazing process. Make careful not to heat an assembly to the melting point of the base materials while bringing it to brazing temperature.
Step 6: Cleaning the brazed joint
Clean the assembly after brazing it. Cleaning is crucial since the majority of brazing fluxes are corrosive. Cleaning typically involves two steps:
Eliminate the flux leftovers.
By pickling, get rid of any oxide scale that developed during this procedure.
Conclusion
To conclude, you must follow the above-mentioned steps for successful brazing. Your results depend upon the method that you use with the used metal as well.  You can also learn more about cold welding by reading this article: What is Cold Welding?