While liquid metal and scorching orange sparks are frequently connected with welding, there are various welding procedures that do not suit this idea. Cold welding is among the most prominent welding procedures. This has been employed in the industrial environment for over a century and offers a number of benefits that other welding techniques do not. You will discover what is cold welding, its working and which metals it may be used in this article.
What is Cold Welding?
No heat is used during the cold-welding procedure to unite the metal parts. The metal never melts; it always exists in the solid state. In this way, cold welding is regarded as a solid-state welding procedure. Instead, pressure is used to provide the energy required to bond the metal. Cold welding, also known as friction welding or arc welding, differs from fusion welding in that it does not include a liquid or molten metal phase.
The workpiece surfaces are pressed as accurately as possible together by the applied pressure. Once the pieces are forced together, the nanoscale spacing is no longer significant, and metal atoms move quickly between them. The two different pieces of metal fuse together into a homogenous mass, creating a nearly flawless connection with practically no consequences.
But to do so, you must meticulously polish the metal surfaces. Before trying to cold weld, oxide layers should be cleaned from every metal. However, we will discuss more details about this in the later section of this article. But first, let's look at some benefits and drawbacks of this method. Go through this video for a detailed understanding:
Historical Background
The first research testing into cold welding was not really carried out until 1724 when Reverend John Theophilus Desaguilers held two active balls together and twisted them, at what point he observed how they had been trapped together. Archaeological evidence of Bronze Age tools which been joined using this technique. The connection created has the same toughness as the metal matrix, according to further tests.
What Is Cold Welding used for? 
Many industries, including production, aviation, automobiles, and telecommunications equipment, use cold welding. It is most frequently used when joining wires, particularly those made of different metals. When laying underground wires, it is ideal because heat-induced welding processes run the risk of igniting flammable gases.
Additionally, it is frequently used to seal heat-sensitive containers, such as explosives containers. Cold welding is often used when using heat would be dangerous or too destructive.
Despite all of the difficulties the method presents, cold welding does have a variety of uses in the market. This technique is most frequently used to weld wires because heat energy is an issue. Cold welding is frequently used with metals, 70/30 metal, brass, gold, nickel, silver, silver alloys, and zinc to ensure quick and reliable links in wires.
Furthermore, cold welding is useful for welding processes that would otherwise be challenging to successfully weld together. This technique can weld the 2xxx and 7xxx material series of aluminum together and is especially helpful for welding copper and aluminum together.
It is frequently applied to generate butt bones or adhesive bonding in a wide range of industries, such as aerospace and automotive.
Conditions Required for Cold Welding
The shape of the mutual and meticulous washing of the surface of the metal are the main requirements for cold welding. It is preferable to smooth any imperfections in the contour since flat connection surfaces perform better.
Expresses, wire scrubbing, manual, pharmacological, and other techniques may be used to get rid of the oxide film and other contaminants. Before wire cleaning, dirt and oil that is generally present on the currency's surface should be removed. So, because brush may push these contaminants further into the metal, this is crucial. The pointed bristles of the stiff brush make soft metals like aluminum, copper, gold, and silver especially prone to having surface oils embedded under the surface.
Cleaning the oils first, then removing the oxide layer itself, is the next step. Various bristle types and brush designs may be advised transition metals. Checking the metal's description sheet is always a smart idea.
How does Cold Welding work?
If you carry out the required prepping in the right manner, the cold-welded joint will be just as durable as the metal matrix. The features of the metal determine the weld quality. The bond strength of cold welding cannot be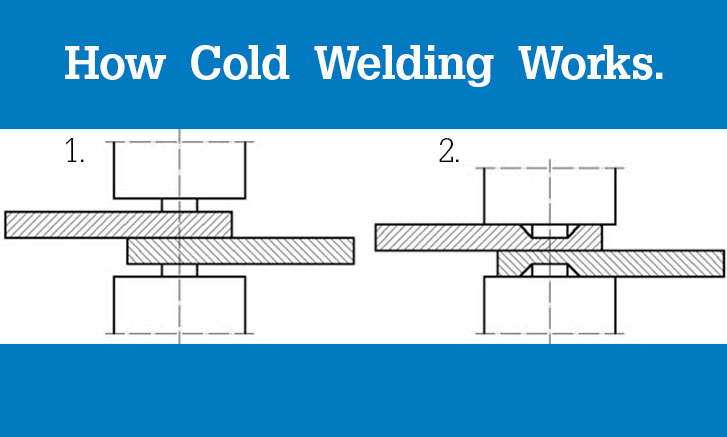 greater than the force of the initial metal, compared to the other welding techniques. If the connecting areas are not adequately polished or have uneven forms, the bond strength will be impaired.
However, ensuring a greater bond in common cold-welding tasks, such as connecting wires, is not very challenging. To simplify matters, this type of welding is a rather efficient method of combining two metals even without the application of thermal and heat energy. To the untrained eye, the whole operation may seem to be too incredible to be real.
A Suitable Weld Joint
Butt and lap joints are the ideal choice because cold pressure welding performs well with a broad contact surface. Butt welds are often used to join wire and pipes. That is due to how simple it is to push the wires together, clean the contact area, and cut the ends. Because soft metals might flex sideways instead of joining, the space between the clamping spots and the contact area should not be too great while producing a butt weld.
The chilly lap joint might be a bit challenging. The pressure used to press two sheets of metal together will cause the thickness to decrease. Therefore, while planning your project, you should allow for a minimum 50% reduction of thickness. If not, the finished welded component would not satisfy the project's criteria. Although the weld may be flawless, the thinned portion may not be acceptable. Make some test welds to estimate the thickness, keeping in mind the metal's ductility and softness.
Machines For Cold Welding to Join Wires
Small wire diameters are handled manually by cold welding equipment. The need for pneumatic or an electric-pneumatic operation arises with greater dimensions. Most of these devices can work with wires, shafts, and strips and are portable. Extreme pressure will be produced using portable cold-welding equipment using an air hydraulic intensifier. The welding head is placed on the side of the welder. It is situated on the machine's top and has three functions: it accepts welding dies, provides stability, and regulates the pressure.
The wires or shafts are put on the sides after the die has been inserted and fixed into the die pocket. When pressure is applied, the die grips the wires close to their ends and forces them closely together. Consequently, tiny contaminants that were still on the cross-section surfaces of the wires are formed from the cores of the wires outward. The wires used in cold welding provide a better joint connection than welding sheet metal because of this. This is only conceivable because, in contrast to sheet metal, wires have a limited connecting surface area.
To get rid of all the impurities, pressure must be applied at least four times. "Multi upset principle" is the name given to this procedure. The wires may be taken out of the machine after they have bonded, and the residue surrounding the joint region can be chipped away.
Limitations of Cold Welding:
We have seen the advantages of cold welding, but there are also some drawbacks as well.
Perfect cold welding is difficult to obtain, and the only way to have a strong cold weld with the same mechanical strength as its parent metals is if the welding surfaces are level and the process procedures have been followed properly. The simpler it is for flawless cold welding, the flatter and more regular the weld surfaces. Various factors, such as the existence of pollution and oxide layers, surface defects, etc., might be to blame for the imperfection. It may be difficult to remove the oxide layers and contaminations, and surface imperfections may make it difficult for the metals to connect (even after a thorough cleaning).
Additionally, only ductile non-ferrous metals like lead, copper, aluminum, etc. are suitable for the cold-welding procedure. No hardening procedures, including work hardening, should have been applied to the metals. As a result, only non-ferrous metals and metals devoid of carbon are left as metals that can be cold-welded.
The restrictions mentioned above limit the use of cold welding to a small number of applications and prevent its adoption in typical industries where it is necessary to weld various metal combinations for manufacturing components.
Can Cold Welding Be Repaired?
So, under appropriate context, cold welding can include the development of industrial welds. If done properly, the parts must be damaged in order to undo the connection. Nonetheless, the joins risk failing if the cold welding is not performed under the proper circumstances.
Advantages
Over other welding techniques, it offers a number of benefits, such as:
1. No HAZ
The risk of damaging mechanical or chemical variations to the base metals being joined is significantly reduced by cold welding because it does not produce a heat-affected zone (HAZ).
2. Sturdy, tidy welds
The weakest of the parent metals can be at least as effective as the cleanest welds produced by cold welding. Brittle intermetallic compounds are not created at the joint during this welding process.
3. Bringing Together Diverse Materials
Cold welding can be used to join dissimilar materials that are challenging to join with other methods, like copper and aluminum.
4. Aluminum Welding
The advantages of cold welding are not limited to joining copper and aluminum; the process can be used to weld aluminum in the 2xxx and 7xxx sequence, which can be done with any other method of metal joining.
Advantages
Even though cold welding has a number of important benefits, it also has some drawbacks. Because of these shortcomings, it is rarely used as the main joining technique. However, as was just mentioned, there are some situations where it is still advantageous. Cold welding has a number of issues and difficulties, including:
1. Neatness
The main issue with this welding is that for a successful weld, the materials must be free of oxide and clean. In a massive production setting, this can be costly, difficult to manage, and hard to prove.
2. Types of Materials
The types of materials that have to be cold welded together are restricted because the metals need to be pliable and can not have undertaken intense toughening processes. Additionally, this method cannot be used to join any metals which exist naturally in any form.
3. Composition Shape
Even after all other measures have been taken, abnormalities on the metallic surface can make joining them challenging. Materials must have a similar structure and no surface defects in order to be cold welded. It is possible to create the hardest-hitting cold welds on plain, regular floors.
Conclusion
Without using flame, cold welding is a revolutionary bonding method that may produce very clear ties. Although it was being used ever since Bronze Age, scientific understanding of it did not truly start to develop until the 16th century. Cold welding has its drawbacks, but when done properly, it can join disparate materials and even certain aluminum grades that are considered "unwieldable". It is often used to connect wires, and is also employed in the aerospace and automobile sectors.
If you are interested in welding, you must read our this article: How to Start a Welding Business?